Description
High performance technology
An Intel Celeron 2.0GHz Quad-core processor and 2GB DDR3L memory, provide premium, energy efficient processing power. With read/write speeds of up to 112 MB/s, the AS51 series' excellent performance is sure to satisfy your storage application needs. Furthermore, when AS51 series devices need more computing power, they can increase the CPU computing power from the original 2.0 GHz to 2.41 GHz, providing a smooth and seamless experience.
*Performance results may differ depending on the testing environment.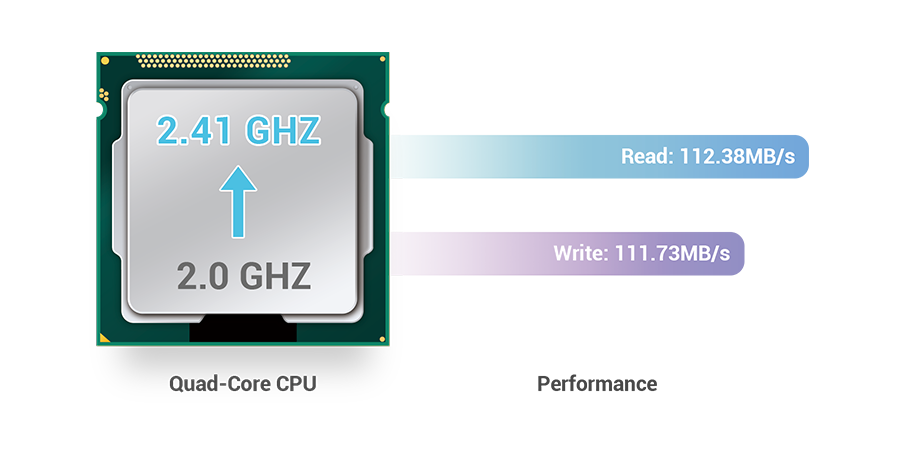 Effortlessly upgrade memory
Depending on your usage preferences, you can decide whether or not you want to upgrade memory. AS50/51 devices provide users with the ability to flexibly upgrade memory so there is no need to worry about the memory before you purchasing the device. When upgrading memory, you simply need to remove the cover of the NAS to do it (There are 2 expansion memory slots in total. Memory can be expanded up to a maximum of 8GB.), letting you easily improve system performance and allowing your NAS to simultaneously run more Apps.
*To purchase memory, please click here.
*For a list of compatible memory, please see:
*Memory installation Guide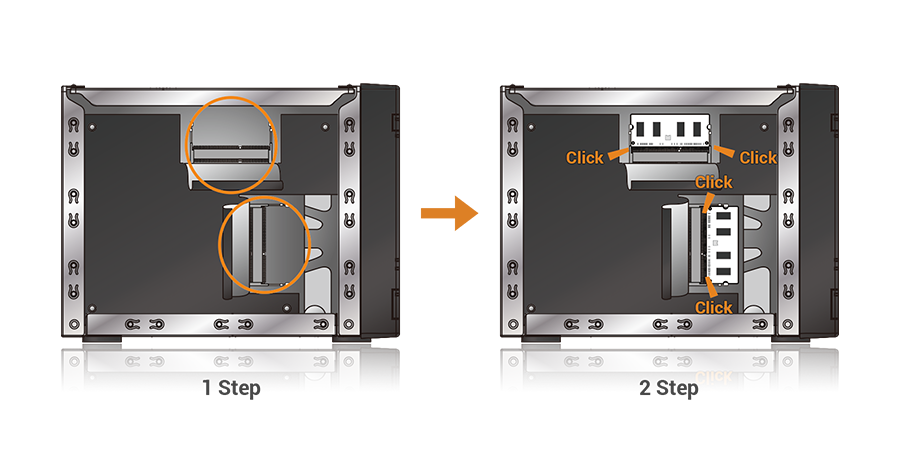 Metallic design
Different from other NAS devices on the market which feature plastic cases and suboptimal cooling, the AS50/51 devices feature aluminum casing along with a rust and corrosion resistant coating which combines with the metallic hard disk trays to fully make use of the natural cooling properties of metal. This significantly enhances the entire cooling ability of the system.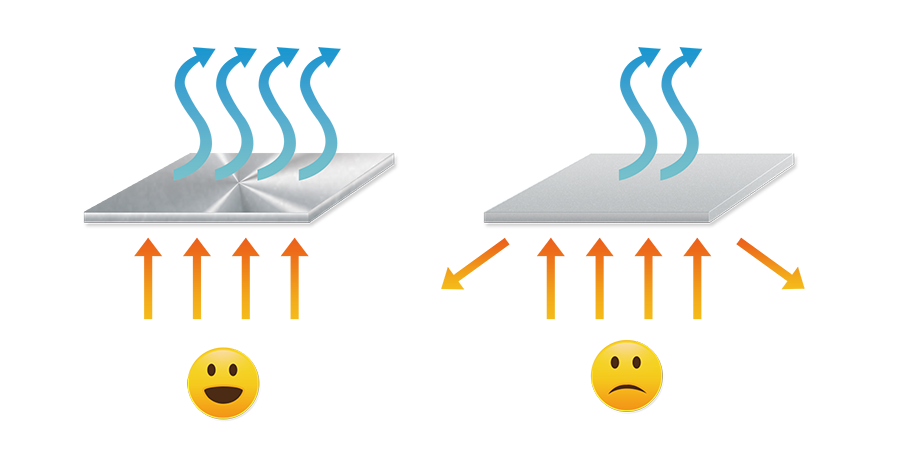 4 times the network speed and increased reliability
The built-in quad Ethernet ports combined with the link aggregation function, allows your NAS to maintain its connection even if one of your Ethernet connections fail, significantly decreasing the likelihood of unexpected disconnections. Additionally, link aggregation provides faster transfer speeds than a single connection could, along with load balancing which automatically balances network traffic load across the two connections, making it the optimal choice for users who require high speed reliability.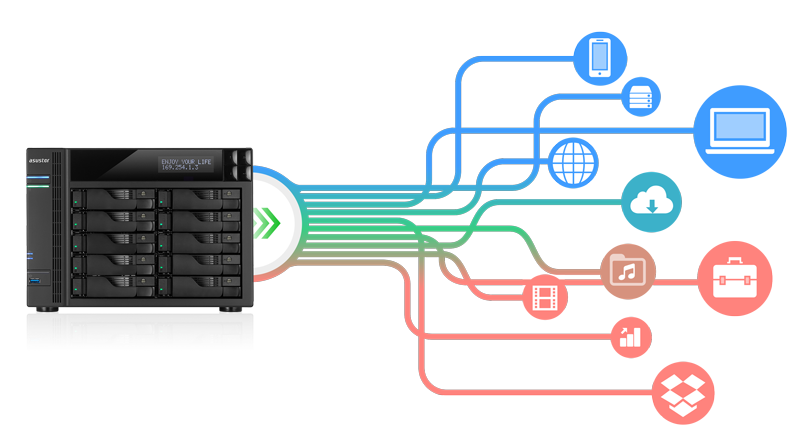 Connect with a new generation of I/O technology for limitless possibilities
A professional grade NAS needs to be equipped with a diverse array of expansion functionality. ASUSTOR has built in USB 3.0, USB 2.0, eSATA, gigabit Ethernet and HDMI 1.4a ports along with a high fidelity audio S/PDIF port, allowing the NAS to connect to different types of external devices and not be limited to its internal capacity. ASUSTOR NAS redefines the meaning of flexibility and expandability in network storage.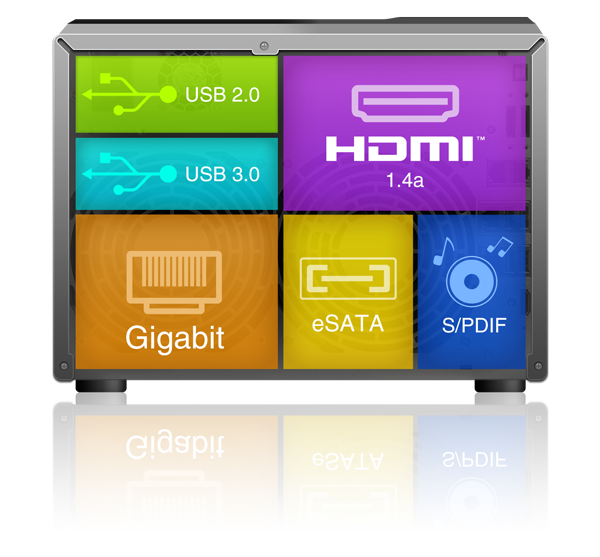 Secure Disk Tray Lock Design
In order to help users avoid accidentally pushing disk tray buttons and releasing hard disks during operation, ASUSTOR has added a new lock mechanism to its hard disk trays. The lock's flat-head design ensures that users will not need any special keys or tools to unlock it, only a simple flat-head screw driver. The new disks trays can be used with all ASUSTOR NAS devices, providing an additional layer of security for applications requiring the frequent swapping of hard disks (e.g., MyArchive).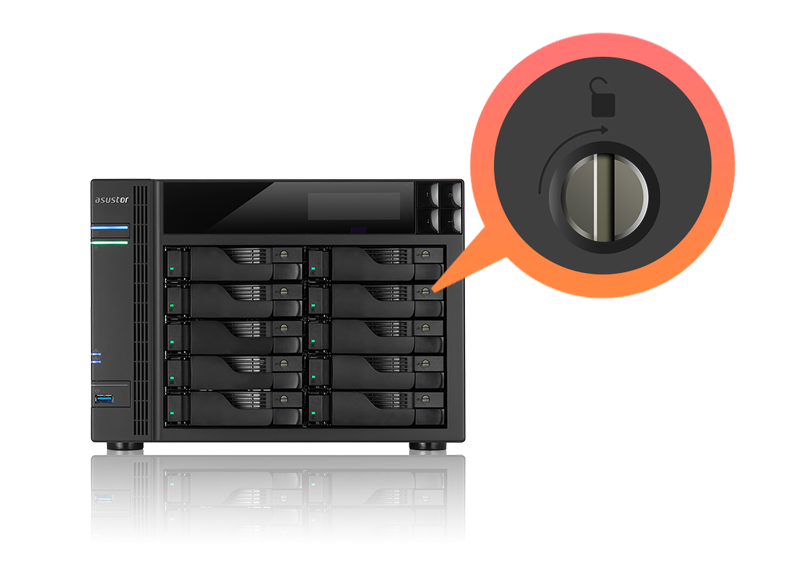 A Surge in Data Transfer Performance
ADM 2.6 supports SMB 2.0 which reduces the burden of network traffic on the NAS while simultaneously providing greater data transfer capacity.In the ASUSTOR testing environment, SMB 2.0 was found to increase Windows networking performance by 30%-50%*. SMB 2.0 also significantly increases the number of concurrent Windows client connections and simultaneously open files, making ADM 2.6 even more suitable for large-scale Microsoft network environments.
* Actual performance may vary due to differences in the installation environment. SMB 2.0 is supported in Windows Vista and later versions of the Microsoft Windows operating system.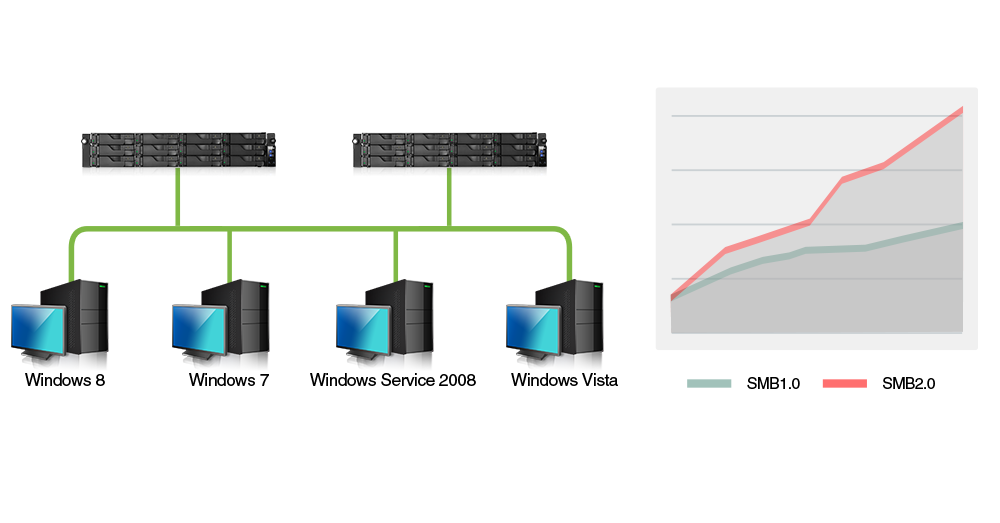 Advanced File Permissions Management – Windows ACL
For IT professionals, file permissions configuration is a very important topic, especially in enterprise environments. Because the native Linux system file permission mechanisms are different than those in Windows, in the past, IT professionals had to create a separate set of permissions for files stored on NAS servers. This also limited the number of permission configuration options that were available to them.
In order to help IT professionals simply their work, ASUSTOR has comprehensively integrated Windows ACL into ADM. Windows ACL provides a set of 13 different permissions settings, allowing administrators to configure permissions for individual files and folders that can be applied to different groups and users. Windows ACL permissions can be configured from within ADM's File Explorer or Microsoft Windows Explorer allowing administrators to easily manage permissions using familiar methods.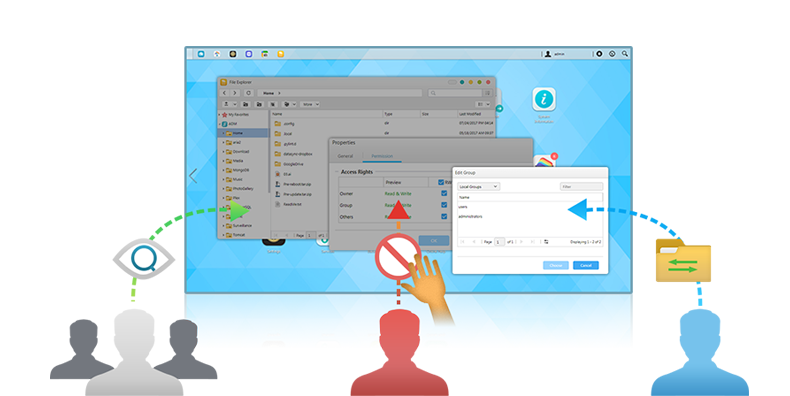 Quick and Easy File Access
The built-in File Explorer App allows you to access the files on your NAS through a Web browser. Enjoy drag and drop file transfers along with a directory structure view that lets you easily organize your data. Accessing files on your NAS never been easier.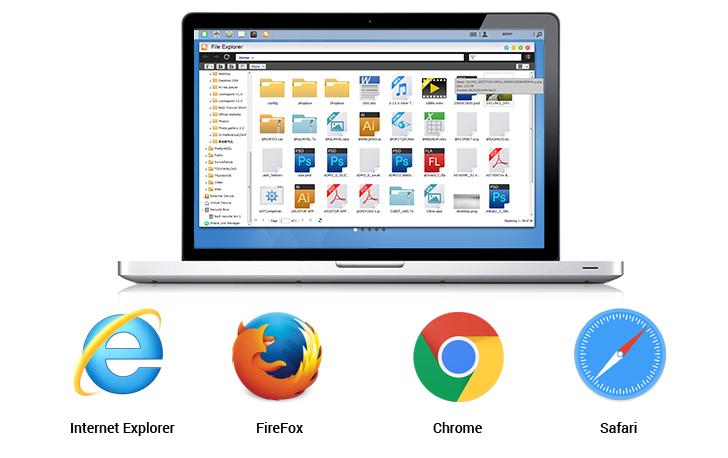 Even More Reliable After-Sales Service
ASUSTOR has extended the warranty period on all of its products to three years, continuing to make customer service a huge priority. It is ASUSTOR's mission to continue to provide its customers with products of the highest quality along with only the most reliable and attentive after-sales service and technical support.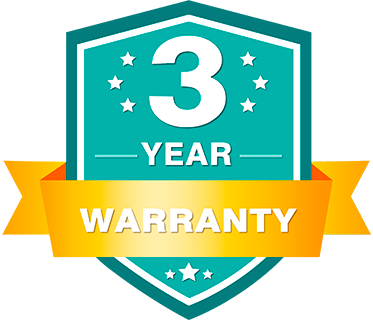 Create the Ultimate Home Multimedia Center
Enjoy electrifying digital entertainment on demand with ASUSTOR NAS. The built-in HDMI interface and variety of multimedia Apps let you to enjoy all of your favorite multimedia from your NAS by directly connecting it to an LCD/LED TV or amplifier.
ASUSTOR NAS supports Full HD (1080p) output, allowing you to savor your movies, TV shows, music and photos in high definition. What's more, through ASUSTOR's App Central, you can install additional multimedia server Apps such as UPnP Media Server and iTunes Server giving your NAS the ability to stream multimedia content to your computers, TVs and mobile devices.
Additionally, you can also further add a surround sound amplifier to create an unprecedented high definition multi-channel listening experience. Imagine watching your favorite racing movie and being immersed in the roar of the engines. Feel the thrill and the sense of speed as you listen to the sounds of cars whizzing by. Prepare for an unparalleled entertainment experience that will have you on the edge of your seat.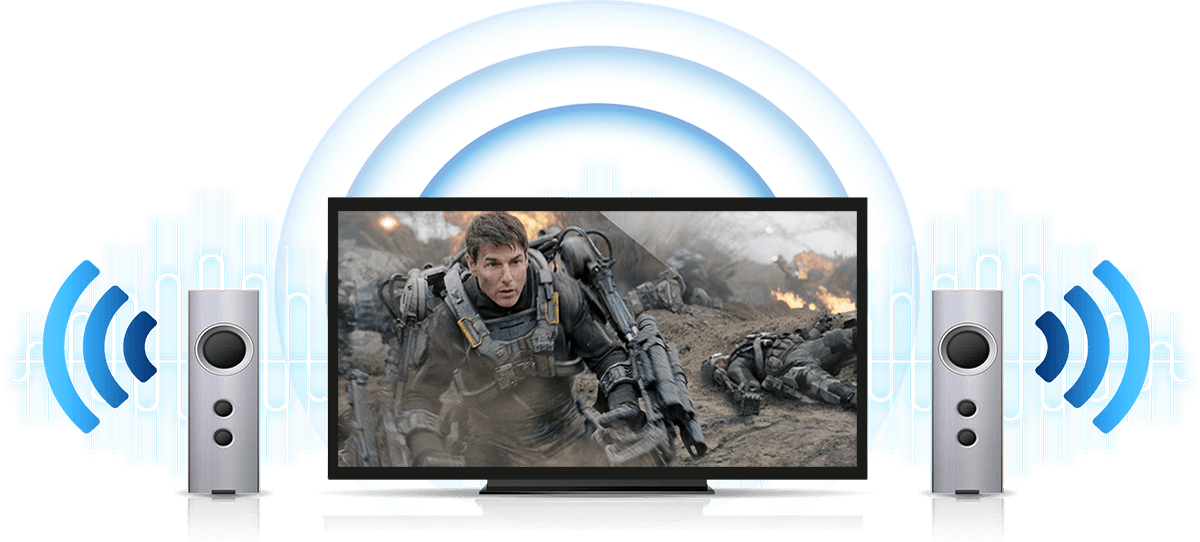 Create a Stable, Reliable and High Quality Surveillance System
The powerful 51 Series devices provide you with stress free reliability when installing a surveillance system in your home or office environment. Installing the Surveillance Center App from App Central instantly turns your NAS into 24/7, high definition surveillance system. Surveillance Center provides comprehensive cross-platform support, allowing both Windows and Mac users to use familiar web browsers to access their surveillance feeds. Furthermore, ASUSTOR also offers the free AiSecure mobile app that gives users access to all their surveillance feeds while on the go. AiSecure also provides the ability to receive instant push notifications from Surveillance Center, allowing users to keep up with the latest developments. No matter if you need to protect individual assets, loved ones or your business, the powerful 51 Series devices are your optimal choice when creating a comprehensive surveillance system.
*Surveillance Center comes with 4 free IP camera channel licenses, which is higher than the industry standard. Users can also purchase add-on camera licenses to flexibly add new camera channels.
*Two different camera license packages are offered: single channel and 4 channels. Currently, the 51 Series devices can be expanded up to a maximum of 25 channels.
*The maximum number of cameras is based on the test results for each channel using 720P (1280×720), 30 FPS and H.264. Actual performance may vary due to camera settings and NAS load.